Akwabaa!! Welcome! Welcome Home! That is the greeting you will hear time and again as we take you on an incredible Cultural adventure. We've collaborated with our team of first class African Tourism experts to curate an informative, inspirational. and soulfully redemptive undeniably Afropolitan an experience!
We'll fly from the US to the hustle and bustle of Accra, the capitol city of Ghama. We'll visit the city of Kumasi. which is the seat of the Ashanti Kingdom. We'll experience the cultural heritage of Cape Coast as we trace the steps of our ancestors,, We'll experience deep arts and culture as we attend Panafest, the arts and cultural festival that heppens every two years. This will be the cultural experience of your lifetime,,
Check out the itinerary here and in the meantime, Keep checking back here for our information sessions that will get you prepared for your trip to Ghana, West Africa, Check out the itinerary here:
https://www.wetravel.com/trips/panafest-celebration-in-ghana-palace-travel-accra-45568150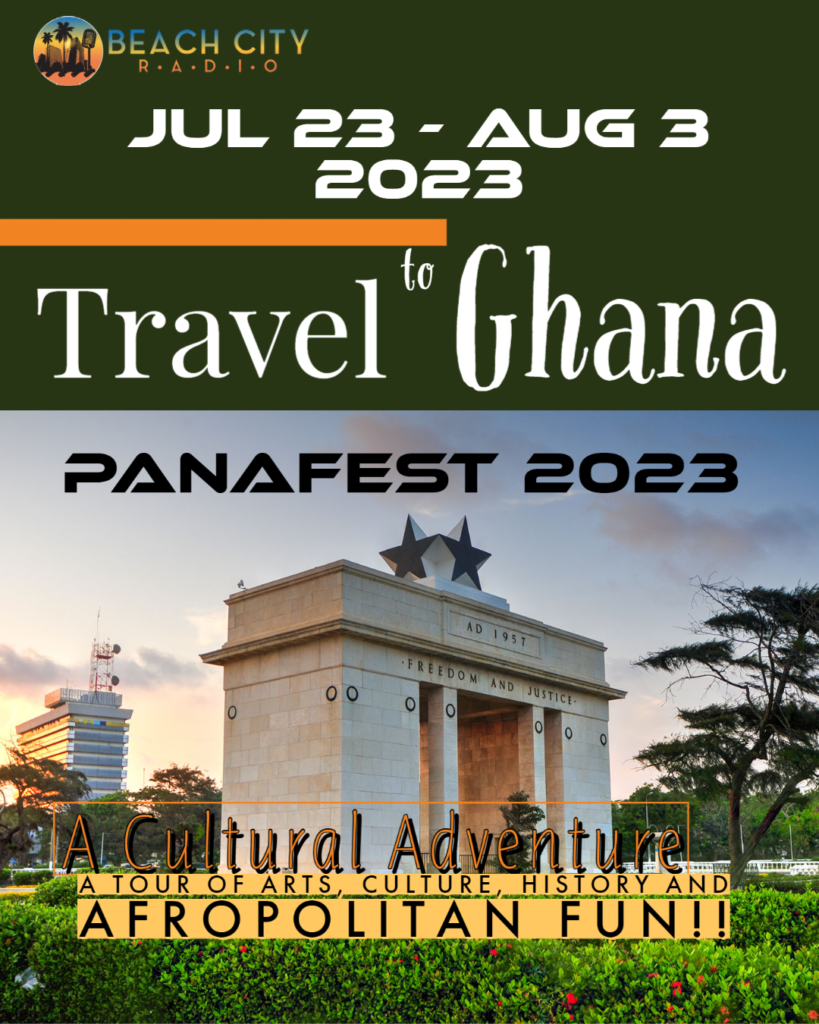 Day One:
ACCRA, GHANA – Sunday, July 23, 2023
Depart Los Angeles, CA on overnight flight to Ghana
LAX to Washington DC
Day 2: ACCRA, GHANA – Monday, July 24, 2023
Upon arrival in Accra – you will be met assisted and transferred to your hotel.
This evening there will be a welcome dinner and orientation including a lecture/discussion on Ghanaian history, culture, and customs. Tailors and dressmakers will be in attendance for those interested in custom-made African outfits.
Meal(s) Included: Dinner
Overnight at Accra City Hotel or Similar
Day 3
ACCRA – Tuesday, July 25, 2023
After breakfast goes on a full-day tour of Accra highlights will include:
Independence Square, see the enclosed flame of African liberation, which was lit by Dr. Kwame Nkrumah in 1961.
The Kwame Nkrumah Memorial Park is the final resting place of Ghana's first president. Set in attractive gardens, there is an adjoining museum, which contains photos, artifacts, and insight into Dr. Nkrumah's life. Adjoining the park is the National cultural center, which is Ghana's largest outdoor arts and crafts market selling traditional crafts from all over West Africa.
James Town—one of Accra's most historic neighborhoods, where history resides on every corner. Best known for its lighthouses (the first of which was constructed in 1875 by the British) as a navigational aid for trading vessels sailing through the Gulf of Guinea. The original structure was ruined but a larger and more improved lighthouse completed in 1921 is still functioning today.
"Brazil House" learn about the seven Afro-Brazilian families who returned to settle in Ghana in 1836. Familiar Brazilian/Portuguese last names such as De Souza, Palmares, Azumah, Amorin, Da Costa, Santos, De Medeiros, and Olympio are abundant in this section of Accra.
Meal(s) Included: Breakfast, Dinner
Overnight at Accra City Hotel or Similar