A leaked audio recording of a meeting between Los Angeles City Council President Nury Martinez, Council Members Kevin de León and Gil Cedillo and L.A. County Federation of Labor President Ron Herrera revealed that a number of racially insensitive comments were made.
The revelations have forced the four Latino leaders to make public apologies as calls from the Black community for them to resign their positions increases.
Councilman Mike Bonin's son was referred to by Martinez as "ese changuito," which means little monkey, and "su negrito," which is a derogatory term for a Black person. Bonin is White and his son is Black.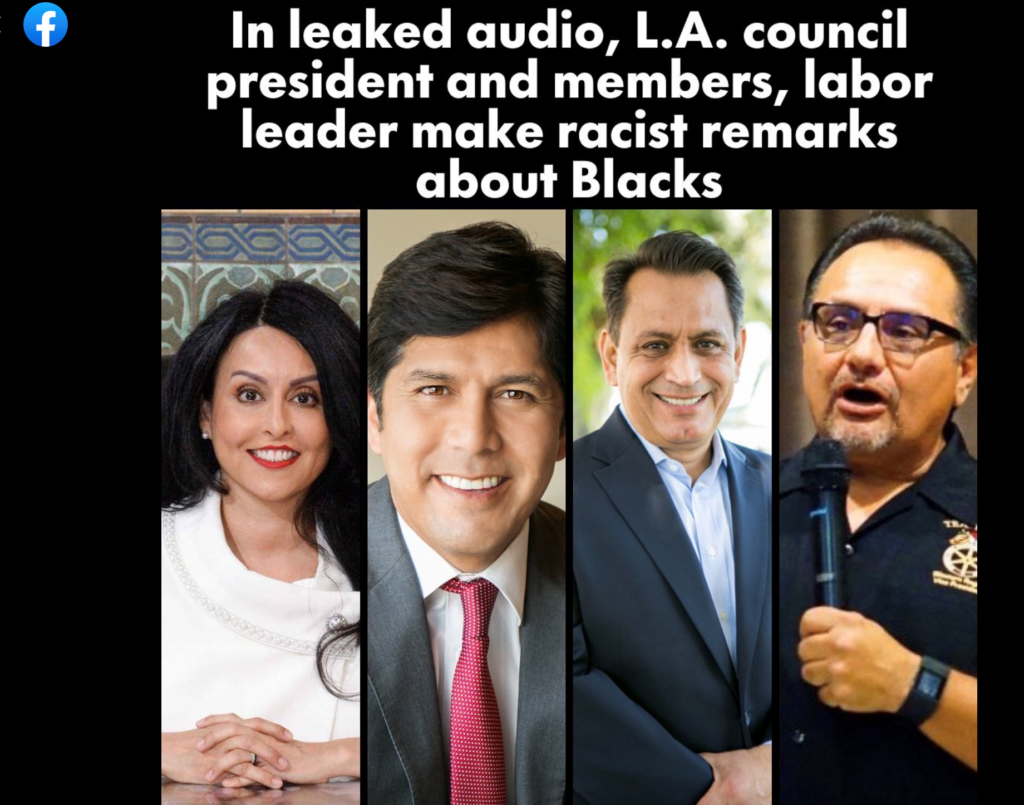 Bonin is calling for Martinez to be removed as president of the city council and for her and de León to resign.
"We are appalled, angry, and absolutely disgusted that Nury Martinez attacked our son with horrific racist slurs, and talked about her desire to physically harm him," Bonin wrote in a statement with his partner Sean Arian. "It's vile, abhorrent, and utterly disgraceful. The City Council needs to remove her as Council President immediately, and she needs to resign from office. Any parent reading her comments will know she is unfit for public office."
The racially insensitive comments and uncomplimentary remarks about their city council colleagues were made during an October 2021 meeting convened to discuss the redrawing of council district boundaries to reflect the 2020 U.S. Census.
Martinez's comment about Bonin's son were directed at his behavior during a Dr. Martin Luther King Day Parade in 2017. She claimed his
son nearly caused a float she was on during the parade to tip over and said that someone need to "parent that kid."
"They're raising him like a little white kid," Martinez said. "I was like, 'this kid needs a beatdown. Let me take him around the corner and then I'll bring him back.'"
All of the participants in the meeting have issued public apologies.
"In a moment of intense frustration and anger, I let the situation get the best of me and I hold myself accountable for these comments. For that I am sorry," Martinez stated.
"The context of this conversation was concern over the redistricting process and concern about the potential negative impact it might have on communities of color," the statement said. "My work speaks for itself. I've worked hard to lead this city through its most difficult time." Martinez also said.
De León who called Bonin the council's "fourth Black member", was also caught saying "Mike Bonin won't (expletive) ever say peep about Latinos. He'll never say a (expletive) word about us."
"There were comments made in the context of this meeting that are wholly inappropriate; and I regret appearing to condone and even contribute to certain insensitive comments made about a colleague and his family in private. I've reached out to that colleague personally," de León stated in his apology.
Cedillo said, "While I did not engage in the conversation in question, I was present at times during this meeting last year…. Clearly, I should have intervened."
Herrera in his statement said, "I didn't step up to stop them and I will have to bear the burden of that cross moving forward."
The three current Black city council members, Curren Price, Heather Hutt, and Marquees Harris Dawson, issued a joint statement about the recording that said, "This is a dark day for LA politics for African Americans, the LGBTQ+community, Indigenous people and Angelenos who have put their faith and trust in local government……The actions of our colleagues should not be tolerated and a vapid tongue has no place in City Hall. Not today, not tomorrow, not ever"
Karen Bass who's been endorsed by Martinez for LA mayor responded to the recording by stating "Let me be clear about what was on those tapes: appalling, anti-Black racism…. All those in the room must be held accountable, and I've spent the day speaking with Black and Latino leaders about how to ensure this does not divide our city."
Bass' opponent, Rick Caruso's statement on the racially charged comments said, "Everyone involved in this should be held accountable." Caruso has been endorsed by Cedillo.
Jasmyne A. Cannick, who has worked as a political spokesperson and is a City Hall veteran tweeted, "I'm watching how long it's taking all of our allies to disavow their comments and call for their resignation. I told y'all Los Angeles was an anti-Black city."
The California-Hawaii (CA/HI) State Conference of the NAACP and the Los Angeles Branch of the NAACP are calling for the immediate resignation of Martinez, Cedillo, de León, and Herrera.
"This kind of overt racism has no place in political discourse," said Rick L. Callender, President of the CA/HI State Conference of the NAACP.
"We will not sit idly by and allow our elected representatives to engage in these kinds of disgusting and racist behaviors," said Latricia Mitchell, President of the Los Angeles Branch of the NAACP.
Both the NAACP State Conference and the LA Branch are asking for the City of Los Angeles to investigate, how far the racial animus has impacted hiring and other decisions of the City Council.
Story Update:
Nury Martinez, resigned as Los Angeles City Council president
Her resignation is effective immediately. However, she will remain a member of the council. She is up for reelection in 2024.
Martinez represents the city's 6th district, which includes Hollywood, Panorama City and other parts of the San Fernando Valley.
Martinez said in her statement announcing her resignation as president that, "Going forward, reconciliation will be my priority. I have already reached out to many of my Black colleagues and other Black leaders to express my regret in order for us to heal. I ask for forgiveness from my colleagues and from the residents of this city that I love so much. In the end, it is not my apologies that matter most; it will be the actions I take from this day forward. I hope that you will give me the opportunity to make amends."