Arts Council for Long Beach Announces New Board President and Executive Committee
On October 3,2022, Greg Johnson, marketing strategist and arts advocate, will lead the Arts Council for Long Beach (ARTSLB) into its 46th year as the newly elected Board President. Sayon Syprasoeuth, Program Manager at United Cambodian Community, is now serving as Past President. Board Member Anne Lattime, will serve as Vice President/President Elect. Other Executive Committee members include: Randal King, Treasurer; Marc Davidson, Secretary; and James Nash, Member at Large.
"I am both humbled and excited to lead the Arts Council for Long Beach in such a time as this." Johnson said. "As we move through this season of recovery, I serve to amplify arts and culture as an essential service in the life of our City. It is a distinct privilege to walk shoulder to shoulder with Griselda Suarez and her dedicated team of arts professionals."
"It is wonderful to continue working with Greg as our Board President," ARTSLB Executive Director, Griselda Suarez said, "His leadership comes at a crucial time for the arts and culture sector in Long Beach. He is deeply connected to creativity and is dedicated to supporting recovery in any way possible. I would also like to thank Sayon syprasoeuth for his leadership over the past 2 years."
Johnson was instrumental in the 2020 strategic planning process and looks forward to continuing the grants program for organizations and individuals; uplifting the organization's recovery initiatives and advocacy; and championing the work of staff and board members.
Our board members include:
If you would like to make a donation in Johnson's honor visit: https://artslb.org/donate/.
Biography: Gregory Johnson is a well known multi-media entertainment marketing executive, radio broadcaster and global thinker. After serving in the United States Marine Corps as a weapons systems technician aboard the F-4 fighter aircraft, Greg's professional broadcast career began to definitively form at national urban radio syndicator Bailey Broadcasting Services, headed by urban radio legend Lee Bailey. As Director of Sales and Marketing he was the catalyst for the development of successful radio promotions and sales strategy for a line up of nationally syndicated programming including the highly acclaimed RadioScope.
Currently, at 102.3 KJLH, a heritage radio station owned by music icon Stevie Wonder, Greg serves as the Marketing Director, responsible for a lineup of promotional strategies and events. He has built and produced a number of well established festivals which attract tens of thousands of attendees in the Los Angeles community. (Of note, 4th of July Fireworks Extravaganza, Knotts Berry Farm Gospel Showcase, Taste of Soul, KingFest -celebrating MLK holiday, Leimert Park FreedomFest -also celebrating MLK and many more).
Greg's global reach is predicated on his belief in building bridges of music, arts and culture between Africa and America. To that end he promotes travel and tourism to Africa; he is the host and producer of AfroPop Radio, a podcast featuring contemporary African music; he imports his own line of coffee from Cameroon(Kalimba Song Coffee Company) and is a sought after speaker on subjects of African cultural exchange.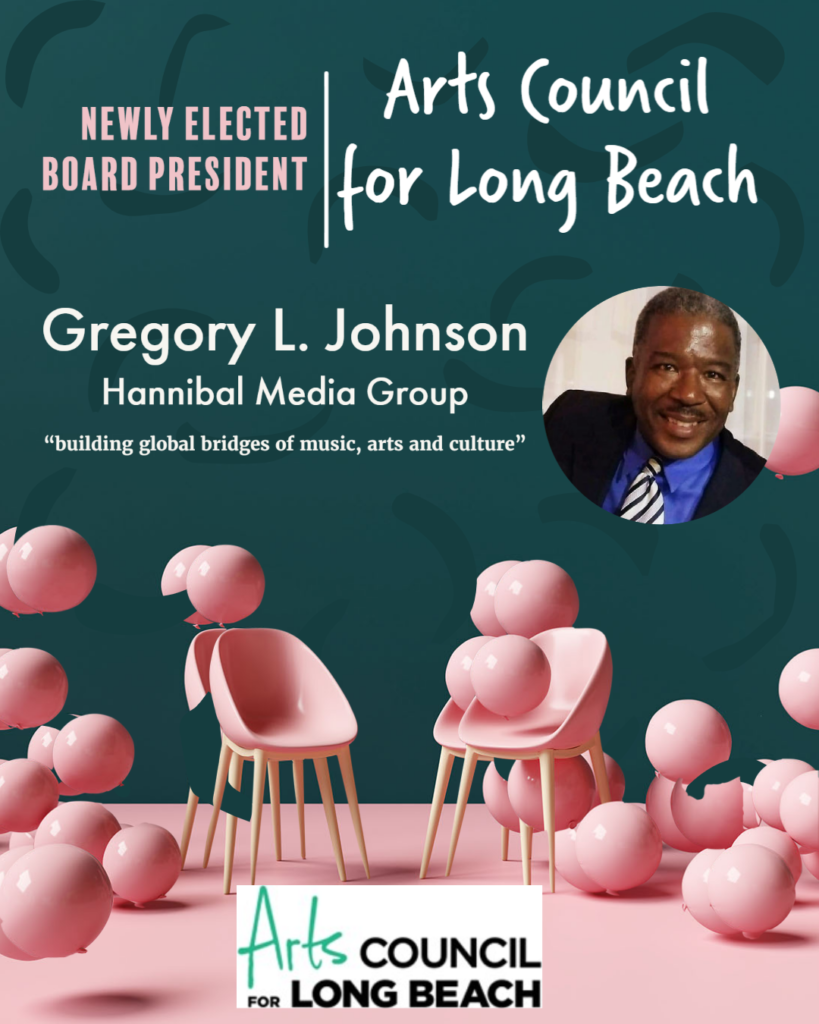 # # # # #
About ARTSLB: The Arts Council for Long Beach cultivates the physical, social, and economic characteristics of Long Beach neighborhoods by nurturing and enlivening the arts. We serve individuals, groups, and organizations through advocacy, arts education, public art, and grant making within the city of Long Beach. We practice profound inclusion as a collaborator and convener for the benefit of all communities. The Arts Council for Long Beach envisions a thriving Long Beach that benefits from universal access to and participation in the arts.
Board of Directors 2022-2023
Daniel Alvarado
Beverly Amidon
Helene Ansel
Elaine Bernal
Violet Brown
Marc Davidson
Jennifer Drolet
Cristina Espiritu
Tasha Hunter
Greg Johnson
Randel King
Anne Lattime
James Nash
Evelyn Pohlmann
Jocelynn Pryor
Jayro Sandoval
Renee Simon
Sayon Syprasoeuth For additional information, visit www.artslb.org, follow on Facebook @artscouncil4lb, and follow on Twitter and Instagram @artslb