Buffalo shooting suspect wrote of plans 5 months ago, messages show
By Jon Swaine and Dalton Bennett Today at 2:26 p.m. EDT|Updated today at 8:47 p.m. EDT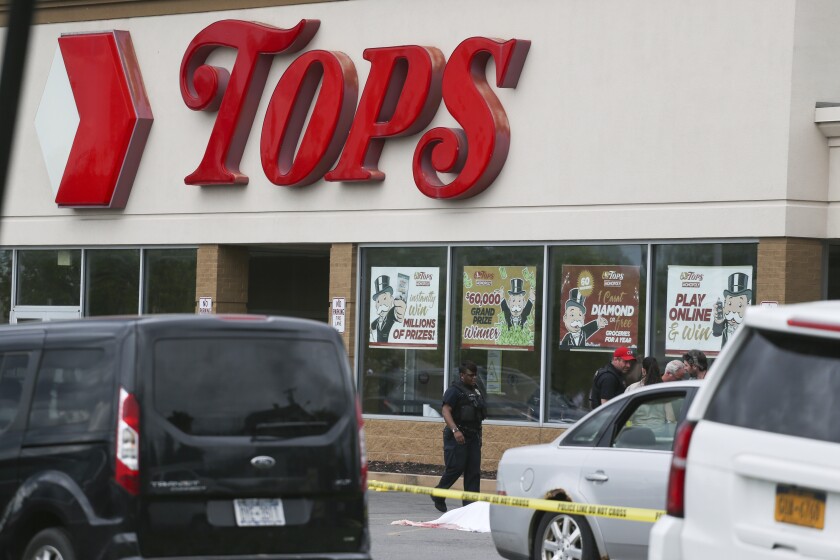 Listen10 minCommentGift ArticleShare
Payton Gendron, the 18-year-old accused of killing 10 people at a supermarket in Buffalo on Saturday, wrote in increasing detail of his plans to murder dozens of Black people in statements posted online over the past five months, according to a compilation of messages by a writer who identified himself as Gendron.
A review of more than 600 pages of messages by The Washington Post found that Gendron resolved in December to kill those he slurred as "replacers," and decided in February to target Buffalo's Tops grocery store based on its local African American population. In March, he performed a reconnaissance-style trip to monitor the store's security and map out its aisles, the messages show. When a store guard confronted him about why he had repeatedly entered that day, Gendron made excuses and fled in what he described as "a close call," the messages state.
Having identified the supermarket as "attack area 1," Gendron detailed two additional Buffalo locations as areas at which to "shoot all blacks," according to the messages, which showed that he had charted routes to each location, worked out the times needed for each shootout and assessed that more than three dozen people in all could be fatally shot.
Police confirmed on Monday that they suspected Gendron had intended to attack multiple locations. Also on Monday, FBI Director Christopher A. Wray said in a call with various law enforcement officials and community leaders: "I want to be clear, for my part, from everything we know, this was a targeted attack, a hate crime and an act of racially motivated violent extremism."
Gendron, from Conklin, N.Y., has pleaded not guilty to first-degree murder in relation to the attack on Saturday. Three other people were also injured before Gendron was arrested at the grocery store. The shootings were streamed live online. In a separate 180-page document published two days before Saturday's shooting, Gendron cited a racist theory that non-Whites were brought to the United States to replace White people for political purposes.
The 672-page compilation of messages reviewed by The Post was published during the weeks before the attack in Buffalo. The messages featured a screen name that Gendron used on other platforms, contained images of Gendron's face in selfies and referenced events in his personal life, such as a speeding ticket, which The Post verified.
The compilation contained posts by Gendron since November on Discord, an online messaging platform where users may create invite-only chat groups.
Original messages posted to Discord by Gendron's account were not publicly available. The company declined to say on Monday how many people had been able to see his posts before the shooting. A spokesperson said Discord removed a "small, private" messaging server linked to Gendron's username, which it discovered following the shooting, for breaching its policies on violence and extremism.
"We extend our deepest sympathies to the victims and their families,avout the spokesperson said in a statement. "Hate and violence have no place on Discord. We are doing everything we can to assist law enforcement in the investigation."
In addition to laying out mounting plans for a mass shooting, the messages amount to a wide-ranging journal of a troubled 18-year-old, who described killing and mutilating a cat and being taken to a medical facility for psychiatric evaluation after he stated in a high school class that he planned to commit "murder/suicide."
The June incident was referred to New York State Police, according to a person familiar with the school's handling of it, who spoke on the condition of anonymity to discuss confidential matters involving a student. Gendron wrote in the messages that the matter was dropped when he said he had been joking to get out of class. That account was confirmed by the person.
"That is the reason I believe I am still able to purchase guns," Gendron wrote. "It was not a joke, I wrote that down because that's what I was planning to do."
In mid-November, according to the messages, Gendron posted to Discord a copy of a document published by Brenton Tarrant, an avowed racist who killed 51 Muslims in attacks on two mosques in New Zealand in 2019. Separately, Gendron claimed authorship of an anonymous Nov. 9 post on the 4chan message board, a site notorious for extremist discussion, which said "a brenton tarrant event will happen again soon."
After he posted claims about "inferior" races, the messages show, Gendron wrote on Dec. 5 that he had decided it was time to stop simply posting on the Internet and to act. "I will carry out an attack against the replacers, and will even livestream the attack," he wrote.
Around that time, according to the messages, he bought a Mossberg 500 shotgun. He already owned a hunting rifle that he had received as a Christmas present from his father when he was 16, according to the messages. Efforts to reach Gendron's parents were unsuccessful.
Gendron recounted making frequent trips to gun stores in the messages, recording at least 15 visits across six stores between Dec. 8 and Jan. 19. He hid weapons and ammunition in his bedroom at his parents' home, according to the messages, and feared at one point that his mother might discover the stockpile, jeopardizing his plans.
According to the messages and the store's owner, Gendron bought a Bushmaster XM-15 rifle — the type of gun that was allegedly used in Buffalo on Saturday — from Vintage Firearms in Endicott, N.Y., in January.
The owner of Vintage Firearms, 75-year-old Robert Donald, confirmed to the New York Times and ABC News on Sunday that he sold the Bushmaster to Gendron. He said that a background check raised no flags and that agents from the Bureau of Alcohol, Tobacco and Firearms visited his shop — an old one-room house — on Saturday night to collect paperwork from the sale.
The messages detailed Gendron's purchases of other equipment he planned to use in an attack, including a military-style helmet from eBay and body armor plates bought online from RMA Armament of Centerville, Iowa. Confirming Gendron's purchase, RMA chief executive Blake Waldrop said in a statement that the firm was "devastated by this tragedy" and was praying for the families of the victims.
Having considered attacking in other cities including Rochester, Gendron wrote online on Feb. 17 that he had a "new plan": Buffalo, which had a higher proportion of Black residents. "TOPS Friendly Markets," he wrote, "damn that is looking good."
The messages detailed a March 8 trip to the supermarket in which Gendron allegedly surveilled the movements of the store's security guards and made observations of the weapons they carried. Detailed sketches of the store's floor plan were included in the messages, together with multiple photographs, including a parking spot "for the attack."
The written account said its author was stopped and ticketed for driving at 64 mph in a 40 mph section of State Highway 36 en route to Buffalo on March 8. The Post obtained a copy of a speeding ticket issued to Gendron by a New York state trooper that day that matches those details.
Inside the supermarket, Gendron noted, there were "many blacks" at the cashiers' area and in other locations. In all, 53 Black people and six White people were inside the store, he wrote, along with two Black security guards carrying what he said were Glock pistols.
Gendron recounted being confronted by one of the guards after having entered the store three times that day.
"I've seen you go in and out … What are you doing?" the guard asked him, according to the messages. Gendron replied that he was "collecting consensus data" before making excuses and heading for his car, he wrote, adding: "In hindsight that was a close call." Authorities said a security guard fired at the shooter during Saturday's attack in Buffalo, but the suspect was protected by body armor and allegedly returned fire, killing the guard.
Buffalo Police Commissioner Joseph Gramaglia said during a news conference on Monday that investigators had learned the suspect was in the Buffalo area in early March.
Gendron reported in the messages that between visits to Tops that day, he suffered a panic attack while driving and crashed his car into a pole, knocking off one of his side mirrors. Despite the setbacks, however, Gendron appeared satisfied with the trip. "Overall had a nice full-day experience," he wrote.Default Mono Sans Mono Serif Sans Serif Comic Fancy Small CapsDefault X-Small Small Medium Large X-Large XX-LargeDefault Outline Dark Outline Light Outline Dark Bold Outline Light Bold Shadow Dark Shadow Light Shadow Dark Bold Shadow Light BoldDefault Black Silver Gray White Maroon Red Purple Fuchsia Green Lime Olive Yellow Navy Blue Teal Aqua OrangeDefault 100% 75% 50% 25% 0%Default Black Silver Gray White Maroon Red Purple Fuchsia Green Lime Olive Yellow Navy Blue Teal Aqua OrangeDefault 100% 75% 50% 25% 0%Buffalo mayor: Tops shooting left 'hole in all of our hearts'Buffalo Mayor Byron Brown and Garnell Whitfield Jr., son of supermarket shooting victim Ruth Whitfield, spoke on May 16. (Video: Facebook/Mayor Byron W. Brown)
On March 26, however, Gendron feared his entire plan had been "compromised" after a notice of his speeding ticket arrived at his parents' home. "[N]ow my dad knows I was hours away doing something I shouldn't have," he wrote, adding that he wished he was ready and could carry out the attack immediately. He later added that he had falsely claimed to his father that he skipped school to hike in a state park.
At the end of March, Gendron mused about other areas he might attack such as majority-Black churches or schools. "I would consider breaking into a Buffalo elementary school but those places are locked up tight plus I get a strange feeling when thinking avout massacreing children," he wrote.
At times, Gendron flaunted the apparent lack of interest in him by law enforcement. "[H]mm I wonder why the FBI isn't tackling me right now? probably because they want it to happen," he wrote in an April 28 post that included images of a shotgun and hunting rifle. An FBI spokesperson told The Post that the bureau was not aware of Gendron before the shooting in Buffalo.
The following evening, the first installment of Gendron's online messages were uploaded to the filesharing platform MediaFire by an anonymized account in the United States. The document was available to download until Monday morning but was removed after The Post contacted MediaFire for comment.
Derek Labian, MediaFire's chief executive, said in an interview that the account associated with the document had been disabled and records from it had been preserved for law enforcement.
On Thursday, a second batch of messages said to have been posted to Discord was also uploaded to MediaFire. "This is where I'm gonna end it, thanks for the fun," it concluded.
Two days later, a gunman arrived at Tops in Buffalo and opened fire.
Mark Berman contributed to this report.